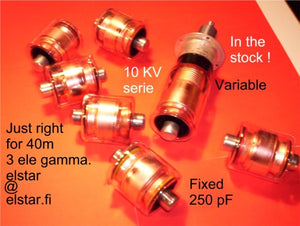 Vacuum High Voltage Capacitors, also Variable 300 PF
VVacuum capacitors are expensive and hard to find. These ones are from Nato stock, under strict quality control. After 5 - 10 years all capacitors are switched to new ones. As brand new, these vacuum capacitors in original packaging retail for more than 10 times the price.
We have the fixed C 100 pF 10 KV and 250 pF 10 KV (excellent for 3 element 7 mHz yagi gamma match). Also variable model 300 pF, but only one in stock. Jenninjs USA.

---
We Also Recommend