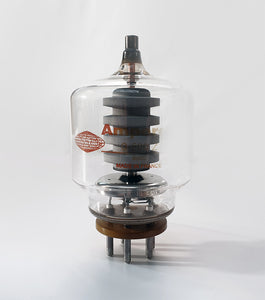 Amperex 3-500Z 8802 Electron Tube / Triode
The 3-500Z/8802 is a triode manufactured by Amperex. The 3-500Z/8802 is primarily used in broadcast applications. Amperex is a leading brand of power grid tubes and magnetrons covering a wide range of applications including broadcast, industrial and scientific.
Key Attributes
Value
Output Power
0.8 kW
Maximum Frequency
110 MHz
Cooling
Radiation
Filament Voltage
5 V
Filament Current
14.6 A
Peak Anode Voltage
6 kV
Amplification Factor
130 µ
Made in France.
---
We Also Recommend