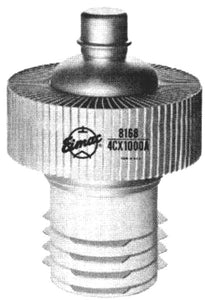 Linear Amplifier Final Tube
Eimac 4CX1000A unused tubes, but not in the original box. High quality. Must be started on few hour filament heating with the blower on to get all moisture away from the beryllium ceramic construction.
This excellent final tube gives 1500 W out safely when instructions are followed. We can also change it to a 4CW2000A equivalent type and you can get more than 3 KW out of it. With this change, it will be water cooled adding 500€ to the price. If you're interested in this option, please drop us a message from "contact us" in the menu.

---
We Also Recommend