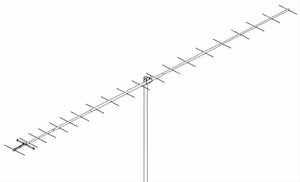 M2 Antenna Systems 440-21ATV Yagi Antenna
Features
Yagi, 70cm, 21 el., 14.5 ft. Boom, 420-440 MHz, 18 dBi, 23 dB F/B, 1 kW, N female, 4.6 lbs each.
M2 Antennas 440-21ATV 70cm Yagi Antennas are the ultimate Amateur Television (ATV) or Fast Scan TV (FSTV) antennas. They are computer and range optimized for very high gain and excellent pattern across their bandwidth. They may be mounted vertically or horizontally and are ideal for ATV, FM Simplex, SSB and CW Long Haul Tropo, OSCAR, and other 70 cm band applications. Their lightweight, yet sturdy construction keeps the wind area low without compromising their 100 MPH wind survival rating.

At the hearts of 440-21ATV beams are their unique Driven Element Module with superior weather resistance and power handling abilities. Each module is CNC machined from a solid aluminum block, features O-ring sealed connectors and internal connections embedded in a special silicone gel that seals out weather and improves power handling. The coaxial balun connectors are triple-sealed. Other key mechanical and electrical parts are CNC machined from 6061-T6 aluminum and all hardware except U-bolts is stainless steel.

M2 Antennas 440-21ATV 70cm Yagi Antennas offer you uncompromising performance, enduring mechanical construction, and long term electrical integrity.
Made in California USA.
Specifications
Manufacturer's Part Number:
44021ATV
DXE Part Number:
MSQ-44021ATV

VHF/UHF Beam Antenna Bands:
70 centimeters
VHF/UHF Beam Antenna Elements (app):
21
Beam Antenna Gain:
18.0 dBi
Beam Antenna F/B (dB):
23.0 dB
E-Plane 3 dB Beamwidth:
22 degrees
H-Plane 3 dB Beamwidth:
24 degrees
Bandwidth at 2:1 SWR:
Over 20.0 MHz
Beam Antenna Boom Wavelength:
6.3
---
We Also Recommend