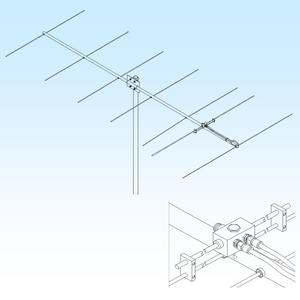 M2 Antenna Systems 2M7 144-148 MHz Yagi Antenna
Features
The 2M7 is a computer optimized yagi that will outperform longer old design antennas. The 2M7 covers the whole band with only slight performance degradation at the band edges. Side lobes are very low and it is perfect for stacking 2 or more. Its light weight and durability make it great for portable hill topping.
The 2M7 is built for long term electrical and mechanical integrity. The CNC machined "T" Match Block features O-ring sealed connectors and is internally sealed with a space-age silicone gel with nearly 4 times the dielectric strength of air.
Elements are 6061-T6 3/16" aluminum rod, mounted through the boom on UV stabilized button insulators. All hardware is stainless steel except U-bolts. Other key electrical and mechanical parts are CNC machined for accuracy and durability.
Made in California USA.

---
We Also Recommend