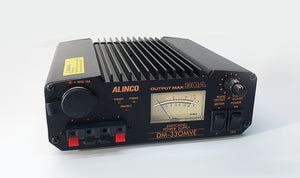 Alinco DM-330MVE Switching Power Supply
Features of DM-330MV:
The combination of high-quality space-saving components and high efficiency switching technology made it possible for the DM-330MV to be super-compact and easy to carry for portable operations and still generate a high continuous output !
Alinco's communication technology has created a patent-pending Noise-Offset circuit to eliminate the pulse-noise of the switching circuit for the customer who demands more.
Safety protections are also very important. The DM-330MV comes with short circuit protection, a current-limiting system and extreme temperature protection.
The programmable pre-set voltage function makes the DM-330MV even easier to use. Just store the most frequently used voltage in the memory, and it is constantly ready to go.
Vast output terminal convenience is just one more benefit of the DM-330MV ! A cigar-plug socket (Max 10A), a set of Max current terminals, and 2 sets of snap-in terminals (Max 5A) are conveniently laid-out and offer numerous variations for its operation.
A big, highly visible, back-lit Amp/V meter displays the status of the operation for added convenience.
Specifications:
Input voltage: AC120VAC(MVT) / 220VAC(MVE)
Output voltage : 5 to 15VDC variable
Output voltage variation: less than 2%
Protection: short-circuit, Automatic current limiting over 32A(MVT), 30A(MVE), over-temperature
Output current: MVT 32A(max), 30A(continuous) / MVE 30A(max), 25A(continuous)
Ripple: less than 15mVp-p at rated load
Fuse: 8A (MVT) / 4A (MVE)
Meter: single volt/current meter, back-lit
Size: MVT 175(w) x 67(h) x 165(d) mm / MVE 190(w) x 69(h) x 181(d) mm
Weight: MVT approx. 2 Kg / MVE approx. 2.3Kg
Made in Japan.
---
We Also Recommend